I'm lying here in bed pressed tightly against a cuddly little girl, much longer than I ever remember her to be, in a tiny cottage bedroom with a delicate curtain for a door. My little man's lanky and rapidly stretching body is sprawled out on a bed right beside us. The warm glow of the light positioned over the sink in the kitchen permeates the draping fabric and brings security. I hear a percussion section performing a roaring thunderstorm right outside of the window. It is perfectly present, as if it's been cued just for me in this moment.
It's the moments of inventory before rest that make things clearer for me – the events of the day, your losses, your wins, new bits of wisdom, who you are in this space. There may be an awareness or acknowledgement of what I may have done differently, although mostly absent of regret. Reflection. Then there are the gems that shine through it all. You take care to file them away in your soul, as to never forget. They leave their mark. They will become the memories.
For another blessed summer we were able to spend some time with Nanni & Poppa at their charming little lake cottage. We play, we create, we live.
We started a tradition last year. Poppa takes us for rides on the tube dialing in just the appropriate level of thrill for each individual child. I hoot and holler to make the babes feel that we're really pushing it – living on the edge – and I can see a shift in their demeanor. They relax into their positions a bit and their smiles change from tentative to thrilled. We exchange a few smooches and I soak in their silhouettes as we cruise the waves together.
Once we've had our fill, we anchor in the calm bay and take turns jumping from the trusty little boat into the water. It sounds easy, right? What's important to understand is the amount of courage they muster in order to participate, building with each jump and successful swim back to the boat.
I encourage them that there is nothing to fear. To be fair, I am acting just a little. As a third child, a handful of years behind the others, you get your fair share of exposure. I vividly remember sitting at the foot of my parents' bed as a very young girl staring at the Jaws book cover in the basket on the floor. If you've seen it you probably remember it well. An unsuspecting woman crawls across the ocean's surface while an enormous, angry, and seemingly very hungry shark heads straight for her, from below, with a big, jagged mouth full of teeth. To this day, no matter how much I'm able to rationalize this irrational fear, I house a twinge of apprehension in large bodies of water. Ok, any body of water. It doesn't help that today, Poppa shared that we were in about 30 feet of water. Gulp. Poppa – shhhhhh.
To challenge myself and protect my very absorptive, spongy children from catching my irrational fears, I keep them tight inside. I am openly share hesitance, but choose not to plant new seeds. I tell them that I choose to be brave and adventurous, even if it doesn't feel easy. I juggle a highly contradictory inner-dialog as I work myself through the reasons that this fear is, indeed, ridiculous.
For the second year in a row, the kids and I swim to shore from deep in the bay where we are anchored. It's an impressive distance. They dig deep to push past the fears of deep water, hungry fishes, and lurking seaweed. I cheer them along after nearly every stroke. "Can you believe it? We are DOING this! Frank & Murrays baby…you GOT this! We are BRAVE and STRONG!" They are all smiles and giggles and nervous energy. Our hearts flutter a little but we use it to fuel us forward.
When we finally reach the dock and climb the ladder there is a total shift in their variety of enthusiasm, stripped completely of the tentative undertone. All that's left is pure, but modest, pride. Little Man's voice drops and octave as he offers his account of our journey. We are puffing heavily and beaming.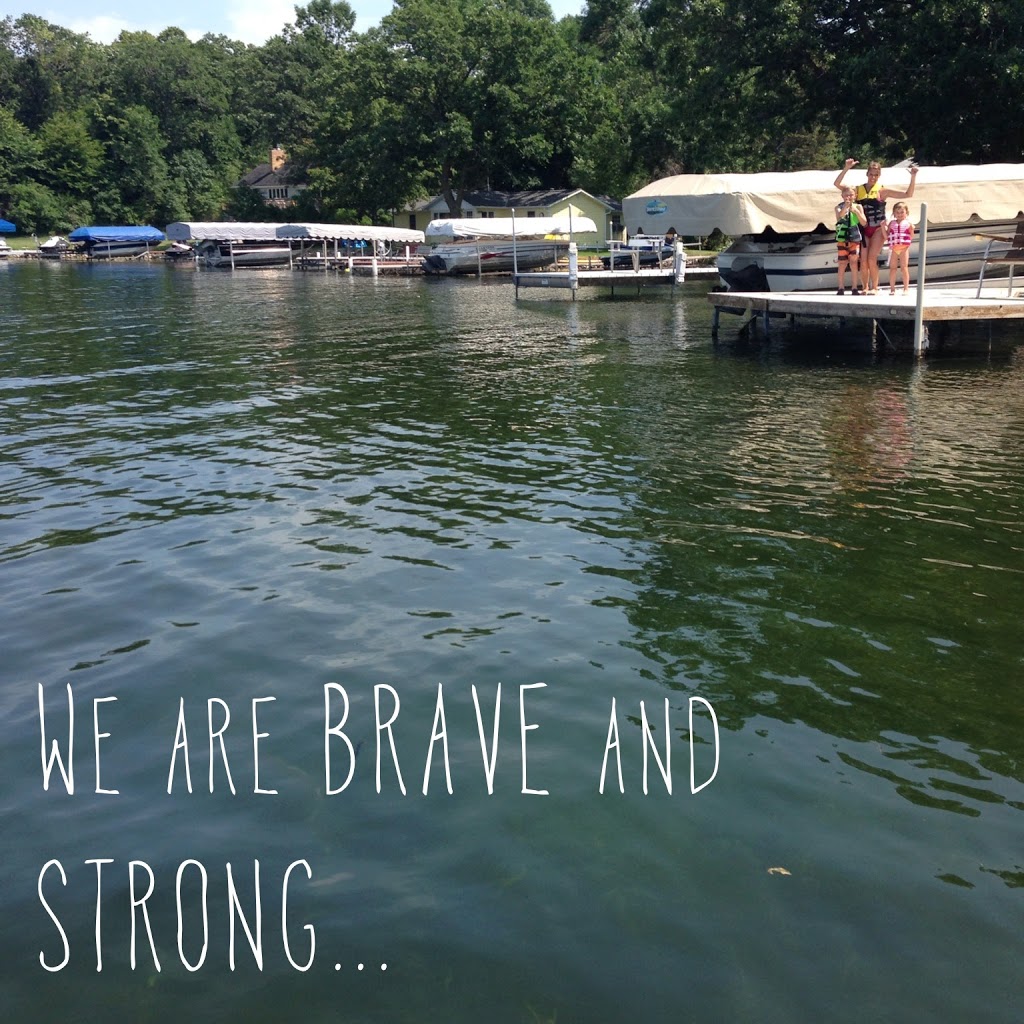 I cherish this moment because of the visual, tangible sense of accomplishment it provides us. We were there. Now we are here. We are strong. We can face things that scare us.
Fears are created and can be DEFEATED.
XOXO,
J