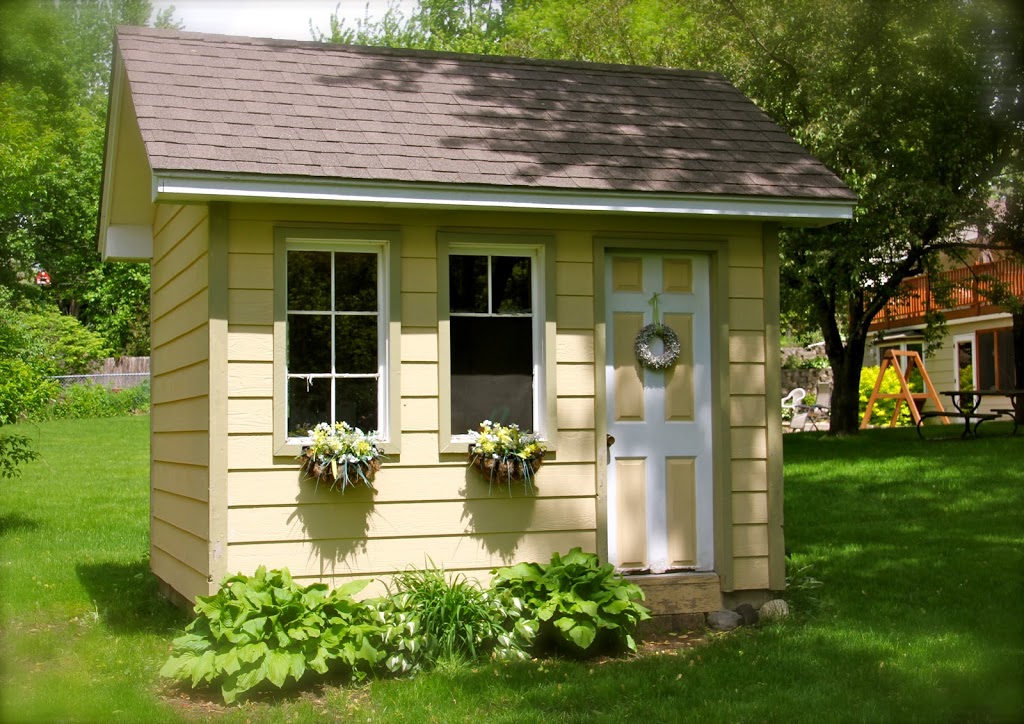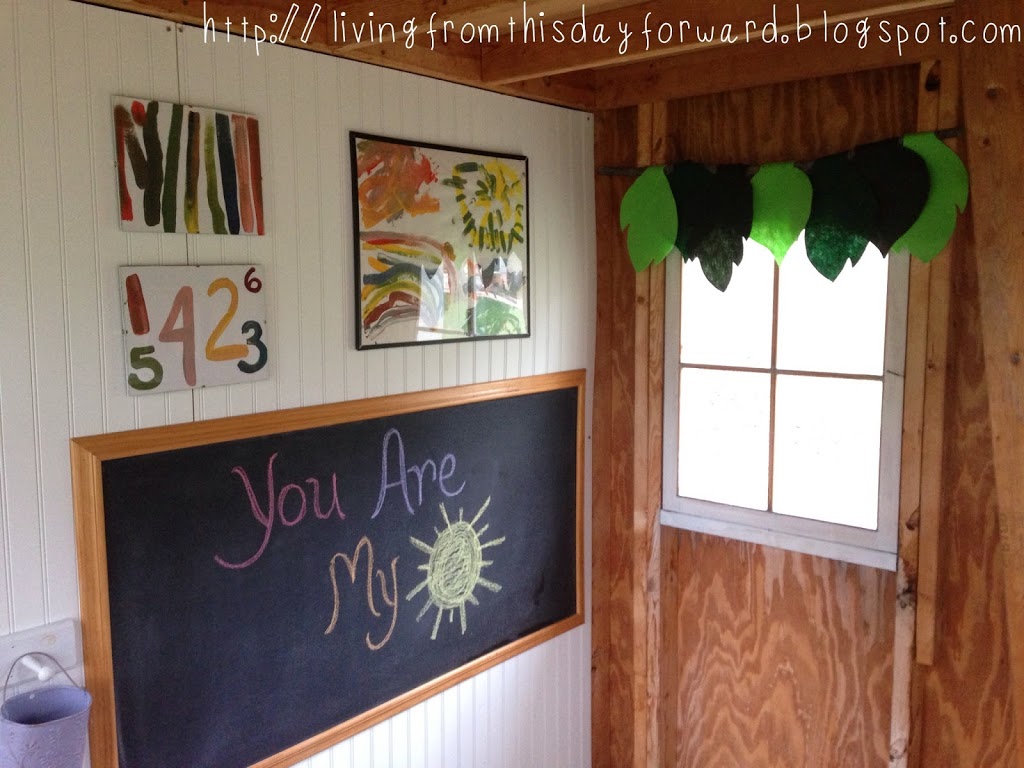 The playhouse. Oh, how I love this cozy little house out back. I remember securing this treasure like it was yesterday.
I grew up with an adorable little custom playhouse in the backyard of my childhood home. Mom & Dad moved it in and built and created all the fixings for the inside. We entered a different world as we stepped across that threshold.
I wanted to share that memory with my own babes. After looking for plans and pricing out materials for a playhouse, I remembered we had nobody to build it. Hmm. Square one.
Not spending one ounce of thought on how one would move a structure; I hit Craigslist in search of one. I was sure there had to be a tiny home that had seen better days, filled with the chatter and laughter of the children it raised, and longed to fill that role once more.
Bingo.
I stated my case, and then restated it a few more times (a skill I perfected as a child while lobbying for trips to Valley Fair, sure I would be a lawyer) and convinced my parental co-pilot to go take a look.
There it was…an adorable little home, sitting lonely on the corner of a farm down south.  Its children had since traded their time playing kitchen and house, for team sports and sleepovers. It sat empty collecting dust while the spiders covered it in cobwebs.
It begged us to love it. Okay, it begged me to love it.
He negotiated the price and it was ours. One problem. It was built like a brick you-know-what, to real live home standards, with a loft, and therefore weighed a ton -possibly literally. Long story short, we had a connection and it would be delivered.
I was over 6 months pregnant and got a call that the house would arrive, by flatbed truck (?!) that afternoon. I researched a proper foundation, packed up my little man toddler, and hit up Home Depot. I purchased the supplies and was home digging-in 2×4's in quick time. Very pregnant, in the heat of summer, I gave the land a run for its money. Foundation? Check. I was really quite proud of that moment.
We were finishing up out back when I heard it…the rumble of the 40-foot flatbed that was parked in front of our modest rambler. And it was bigger. They carefully backed the trailer down the hill to the backyard and lifted the house onto my freshly secured foundation with the Bobcat that they brought along. It was a really big trailer.
Little Man's eyes were wide and took in every step! It was so glorious.
I can remember feeling like a real grown-up in that moment. My parents were dream chasers and magic makers. I watched them do things like this all the time throughout my childhood, making big meaningful things happen with little resources. I had arrived.
Today, that playhouse serves as a secret fort, hunting shanty, spy headquarters, fairy home, snack shack, and domestic, mama-in-the-making dolly haven. The powers of imagination are magnified within the four walls of this snug house. Each year I add something to it. Last year I hung antique wooden fruit crates on the wall as shelves.
This year…custom window valances.
I'll call this project…Window Bling
Supplies:
Sticks (can you believe we have any left – lots of nature projects lately)
Felt – I chose various shades of green for leaves
Glue Gun
Scrap Paper (for patterns)
Pins / Scissors
Hanging Hardware (measuring tape/drill/nails)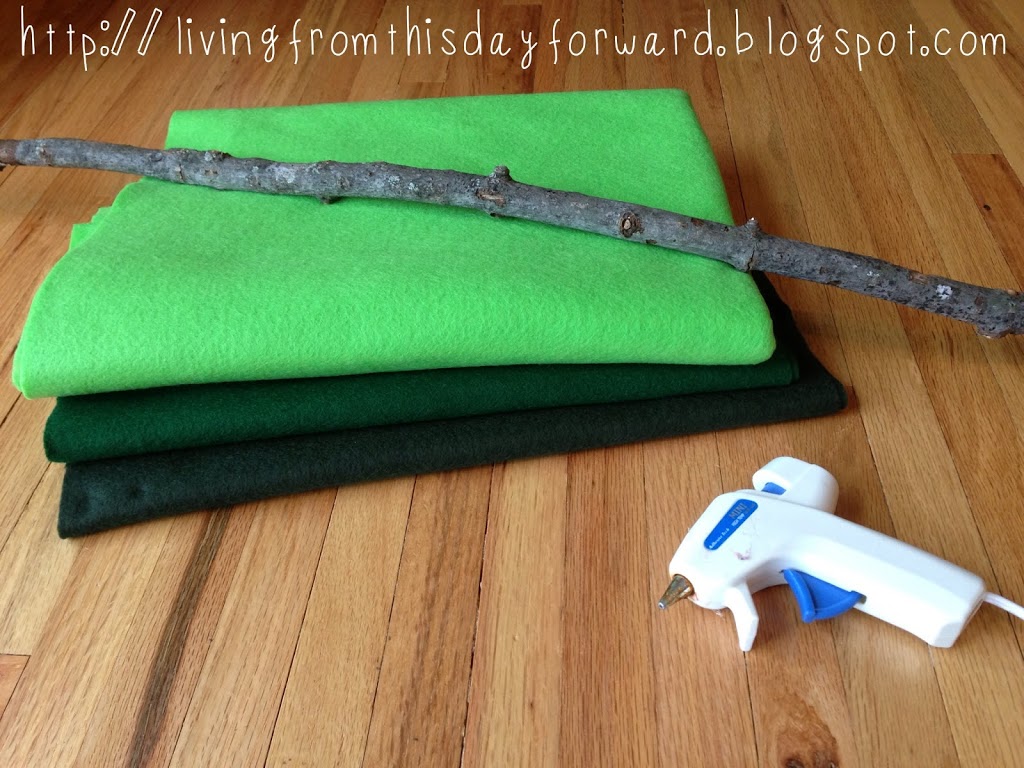 The custom valance my mama helped me make for my very first baby nursery inspired this project. The room was jungle theme and I wanted big, layered leaves as a valance over sheer cotton curtains. She nudged my ideas to grander places adding padding for texture and wire for shaping. It was the finishing touch that sealed the deal for me in that design. They still hang in the room that Little Lady has since taken over, tying memories together in my heart.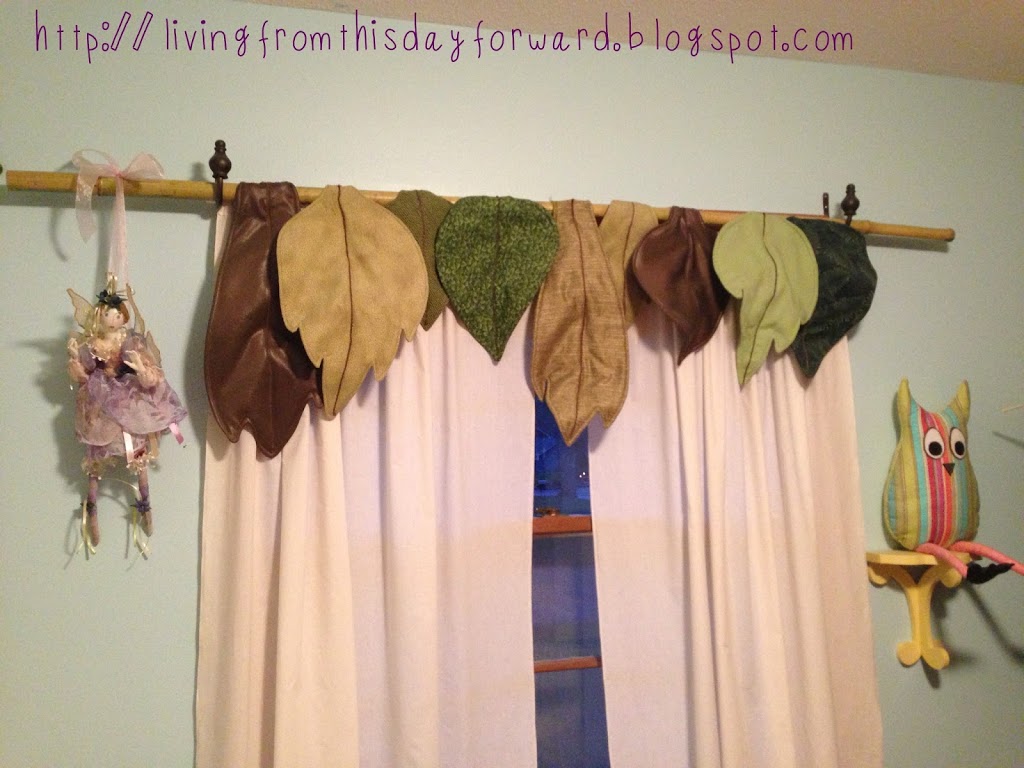 This week, as I was repositioning the valance in her bedroom after an all-afternoon rager with a 4-year-old girlfriend (play date), it came to me; I would recreate them in simple form for the playhouse.
I started by measuring the width of the windows, frame-to-frame. Little Man was an excellent assistant and took the job very seriously. His voice seems to drop an octave in these situations.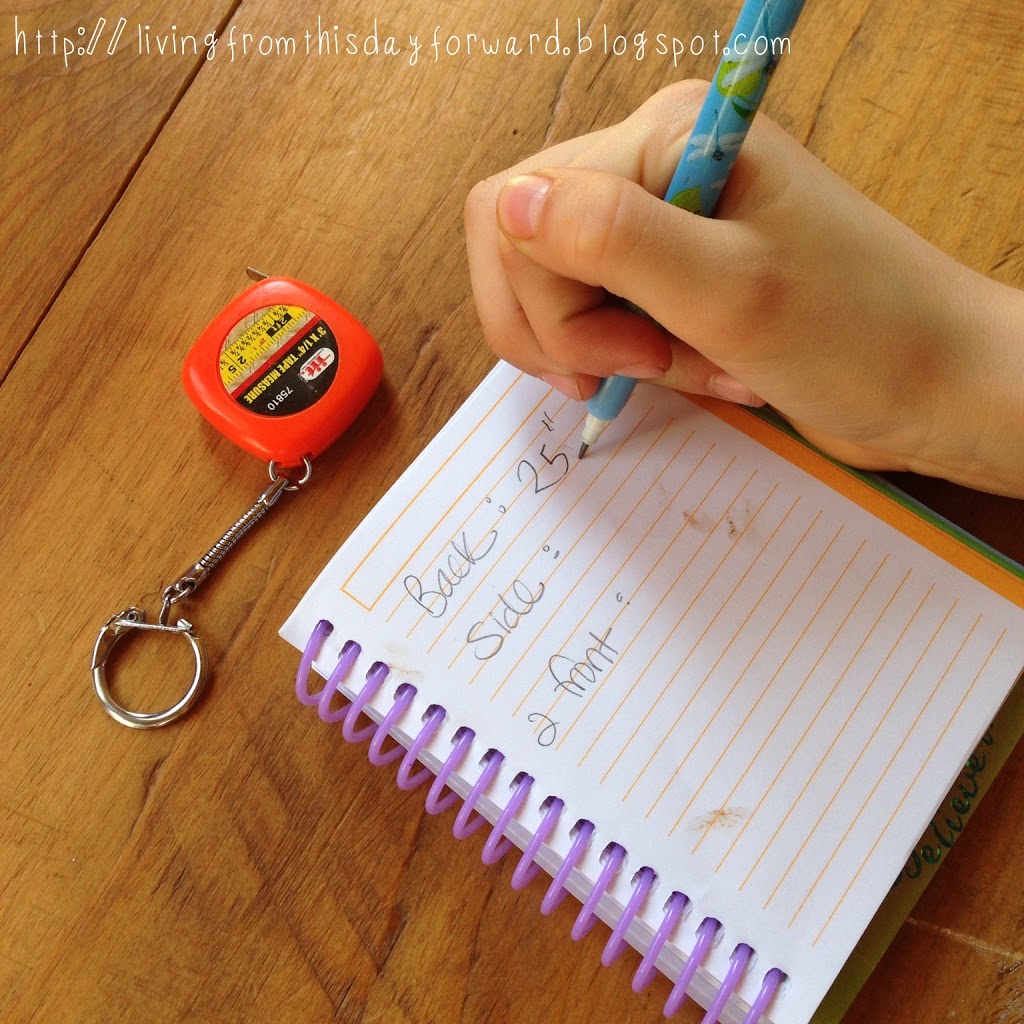 With sticks on the brain (last two weeks worth of projects) we had a suitable curtain rod. Find sticks that are relatively straight, somewhat sturdy (doesn't require a lot of weight), and long enough to overlap the frame a bit. Take a rock in your hand and sand the surface of the stick a little to remove loose bark or debris.
I chose three shades of green for my leaves to provide texture and dimension. I freehanded a few leaf shapes on copy paper to make a pattern. Cut leaves, estimating the number you'll need based on the width of the window and length of the stick. Fold the felt in half, doubling it up to cut two at once, speeding up the process. I found it helpful to pin the pattern in place before cutting.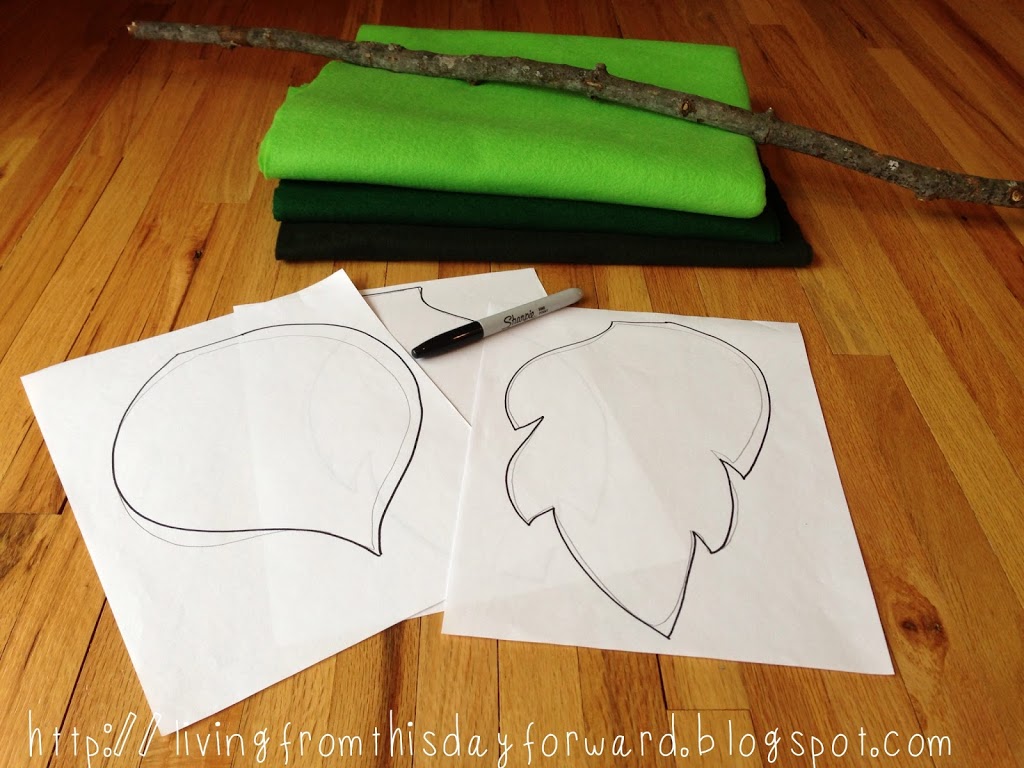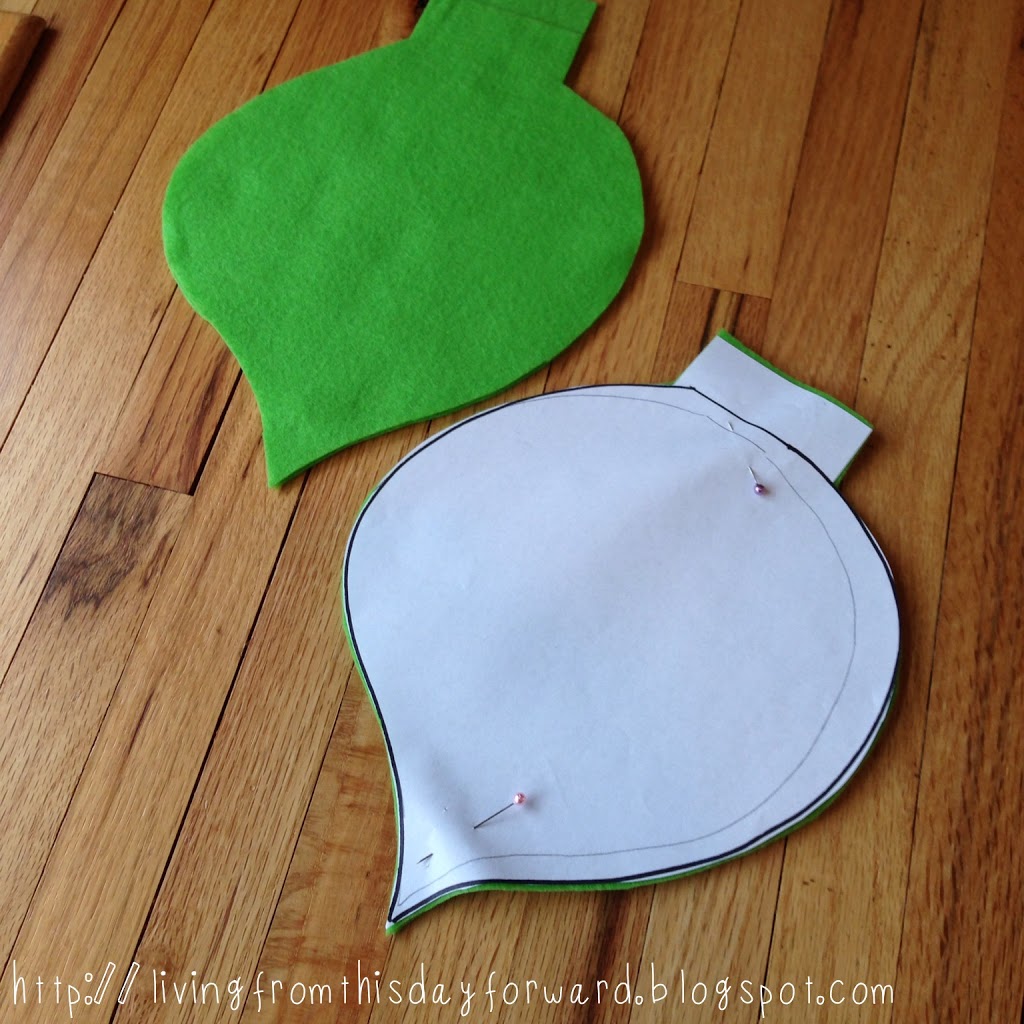 Find the position in which the stick lays the flattest against the window frame and mark the 'FRONTS' of the stick with tape. Layer the leaves along the front of the stick making sure they wrap over the top and around the back of the stick a little to hide the edges. When you are happy with your layout, glue them in place at the very top of the leaf with a glue gun. You are only tacking them in place – no need to overdo it.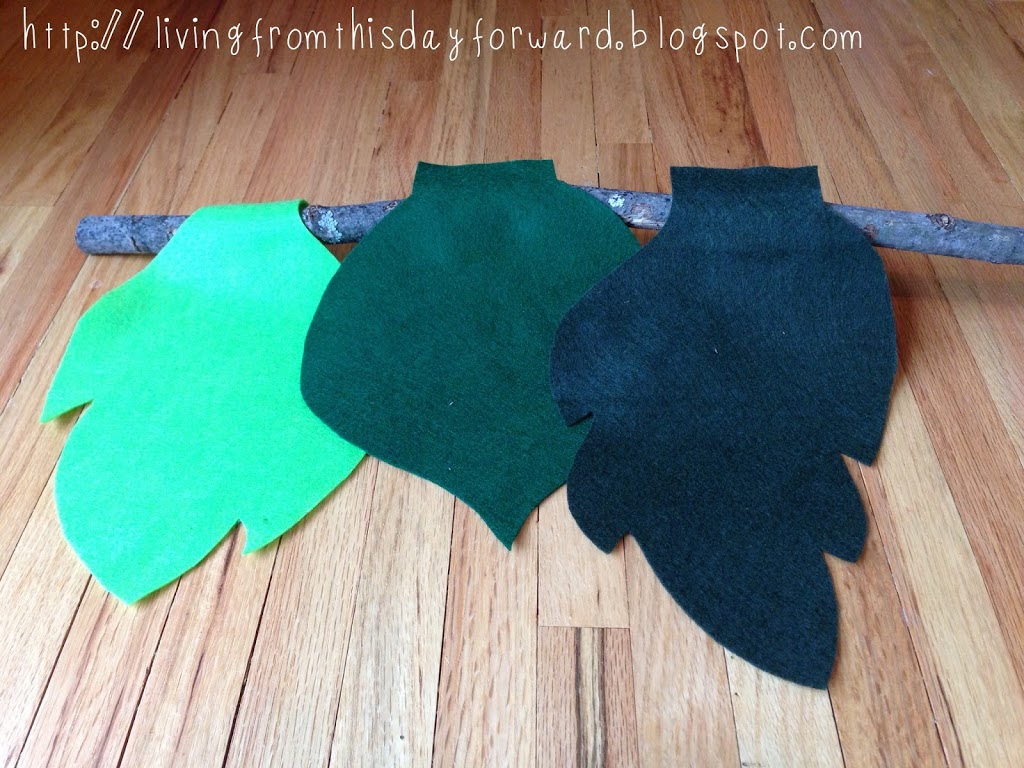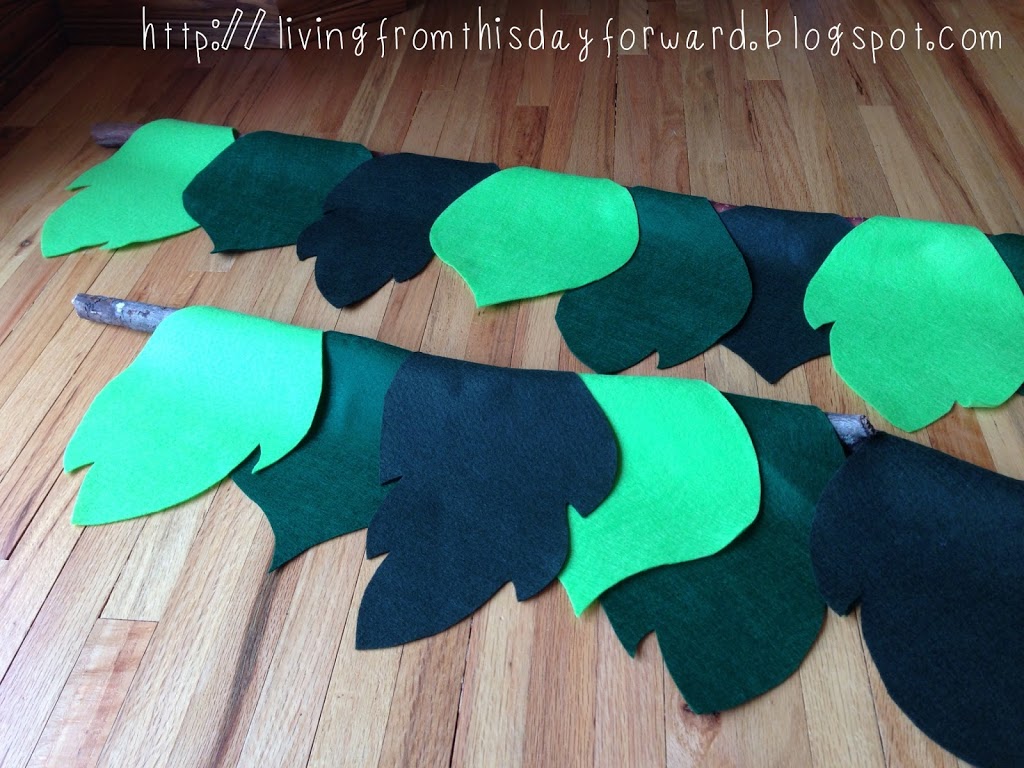 There are many options for hanging the sticks (rods) and your hardware store will have them on hand. Our windows had wood frames and I decided to attach the sticks directly to the frame with a thin nail.
Little Man helped me pre-drill a small hole through the stick and then we just nailed them up in place. God, I love that kid. I made sure the nail was long enough to go through the stick and enter the frame deep enough to remain sturdy.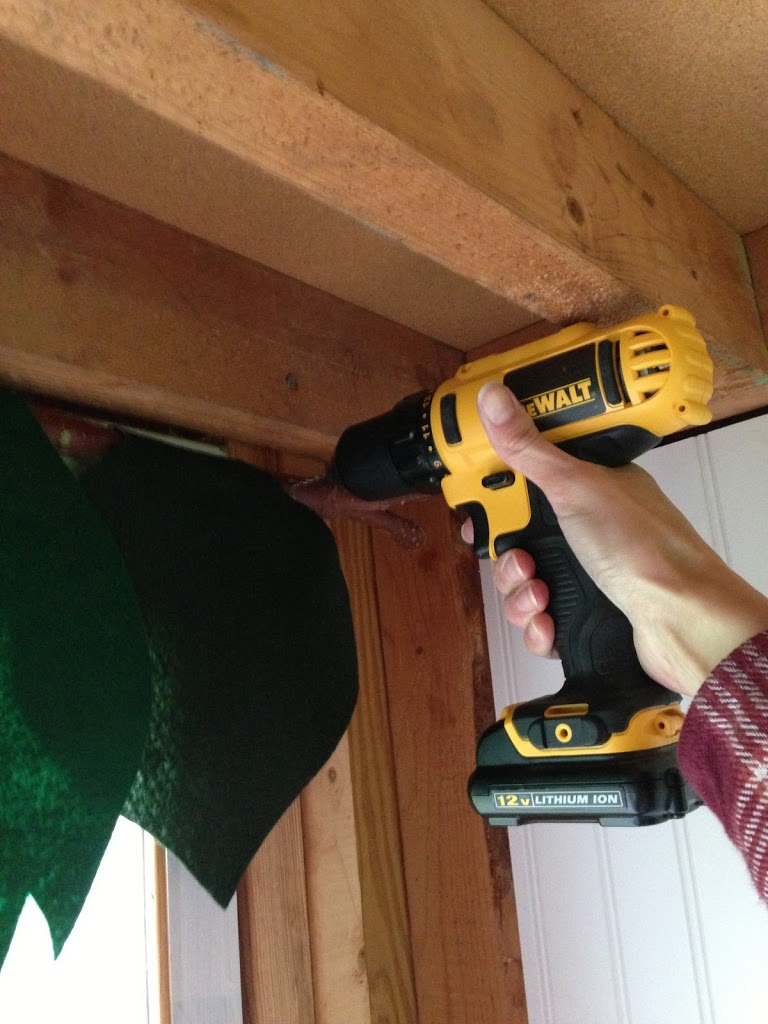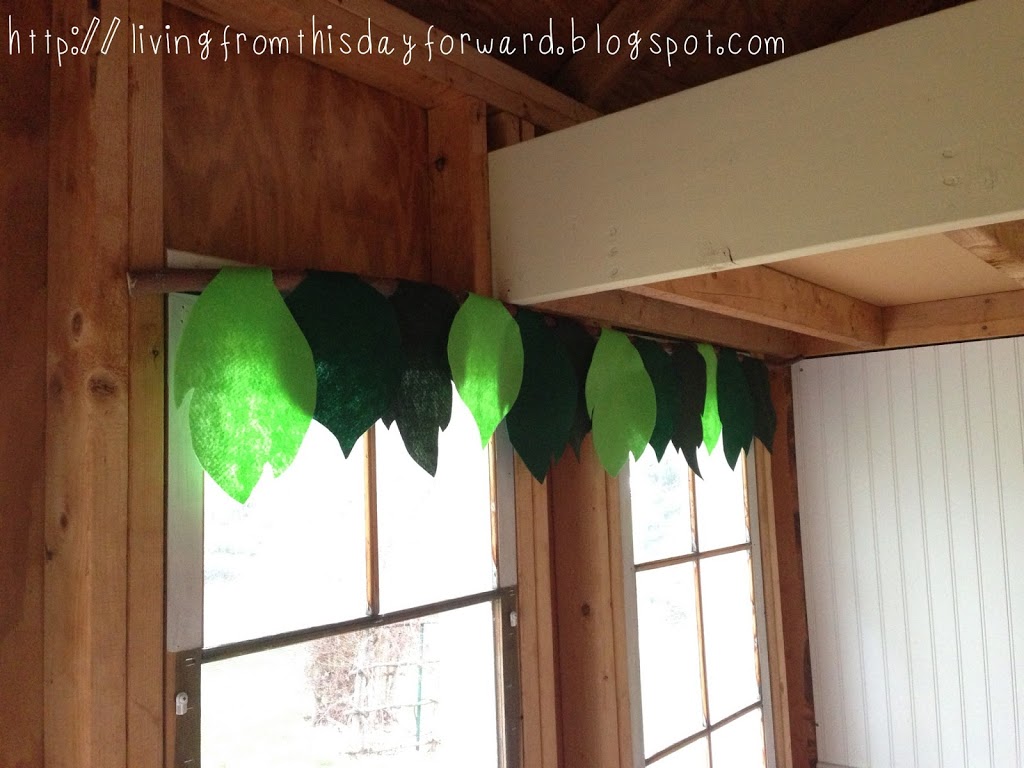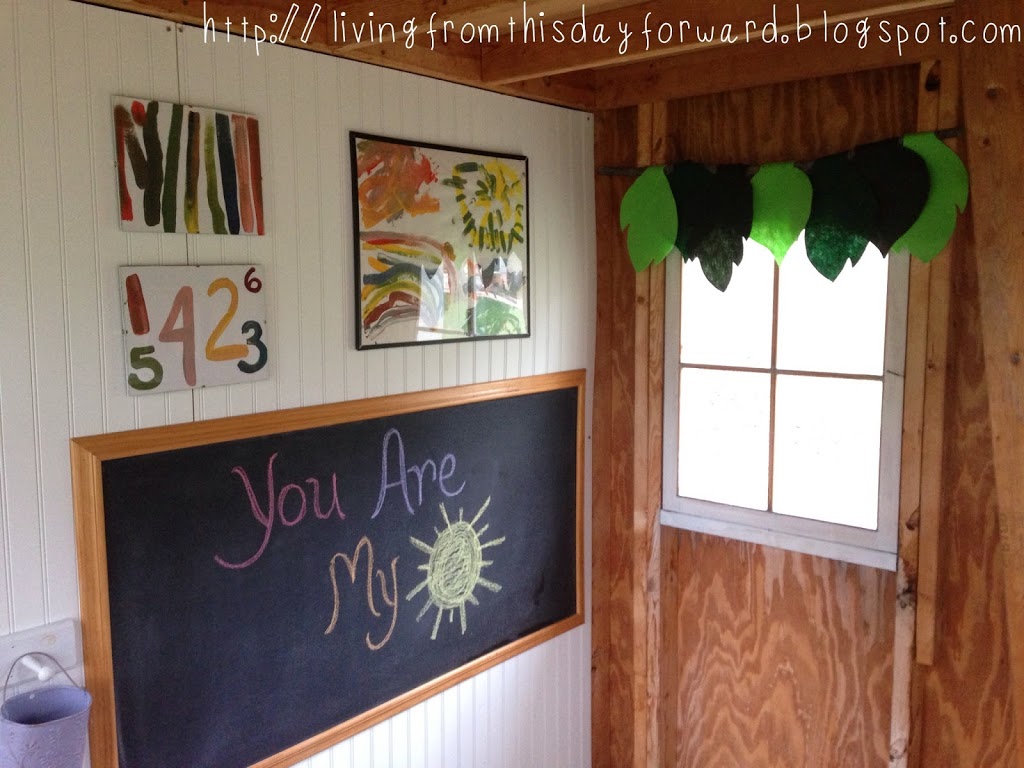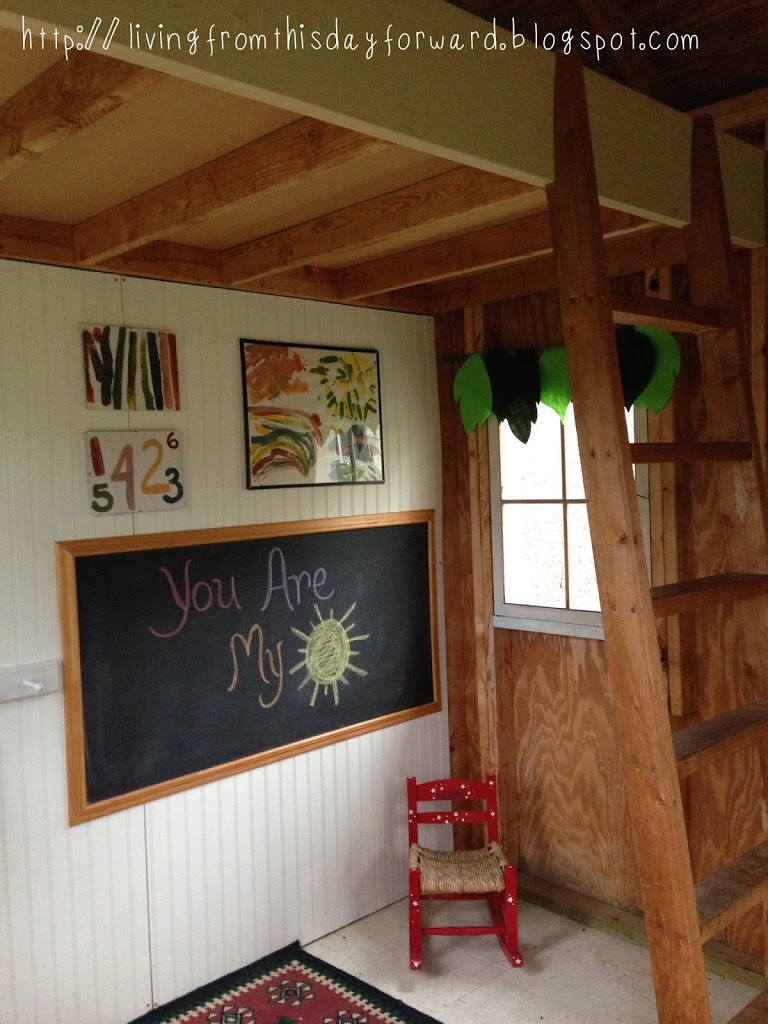 Spread love everywhere you go: first of all in your own house…let no one ever come to you without leaving better and happier.   ~Mother Theresa
Cheers!
J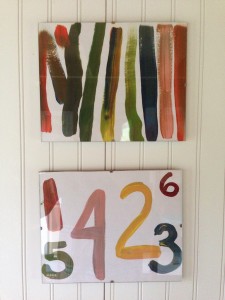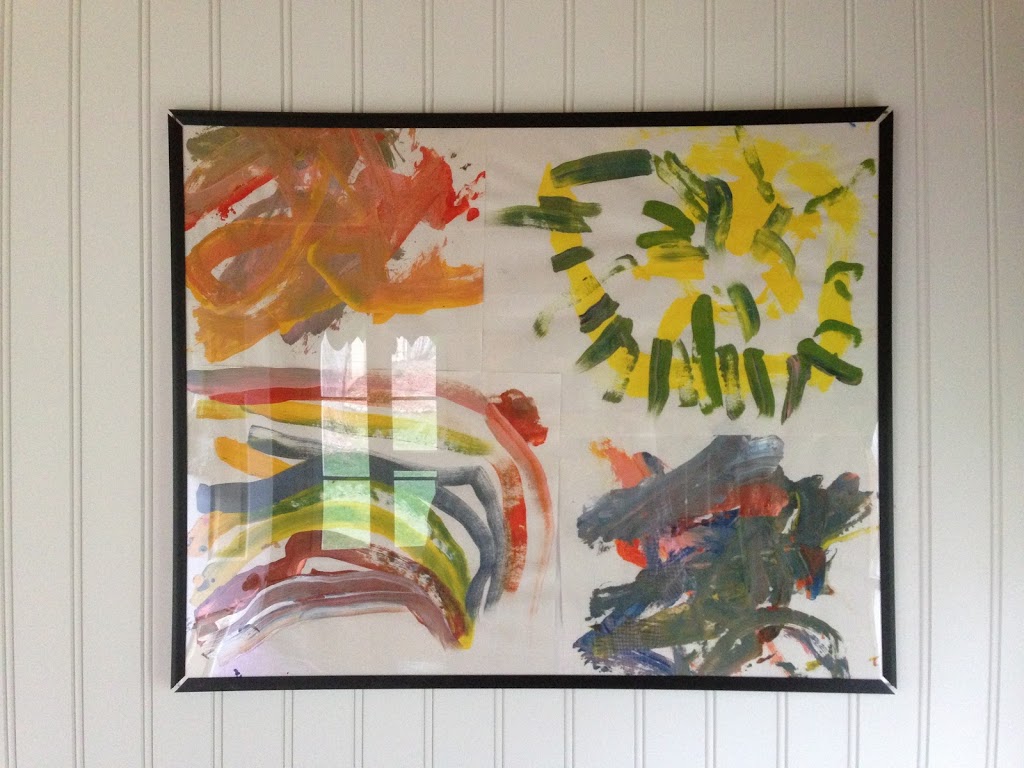 Leave a thought or a comment – I love to connect!