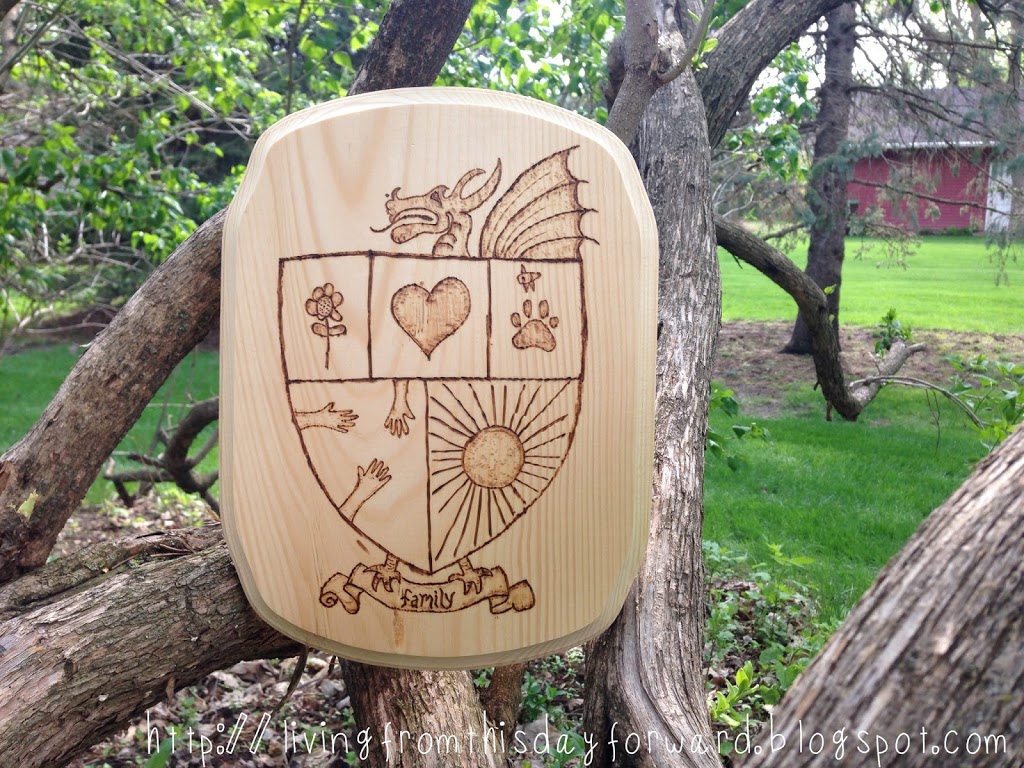 We are family. We are tight. We stand for things.
I was inspired recently by the notion of a family crest. Although the history of crests or the coat of arms is deep and sometimes conflicting, the idea that I take away is a family trademark or seal – a custom stamp displaying symbols of our roots, accomplishments, or character.
A crest feels official, gallant, magical, and a little mysterious.
Our spin-off will be a wooden plaque that we'll proudly display in our cozy little playhouse. Considering the historical aspect of the crest, we'll follow suit by passing it down to their children someday.
I'll call this project…our Little Family Crest
Supplies:
Wood Plaque (a scrap piece would work as well)
Wood Burning Tool
Wooden Skewer (think kabobs)
Paper/Pencil
Brown/Black Sharpie (optional – if you don't plan to burn)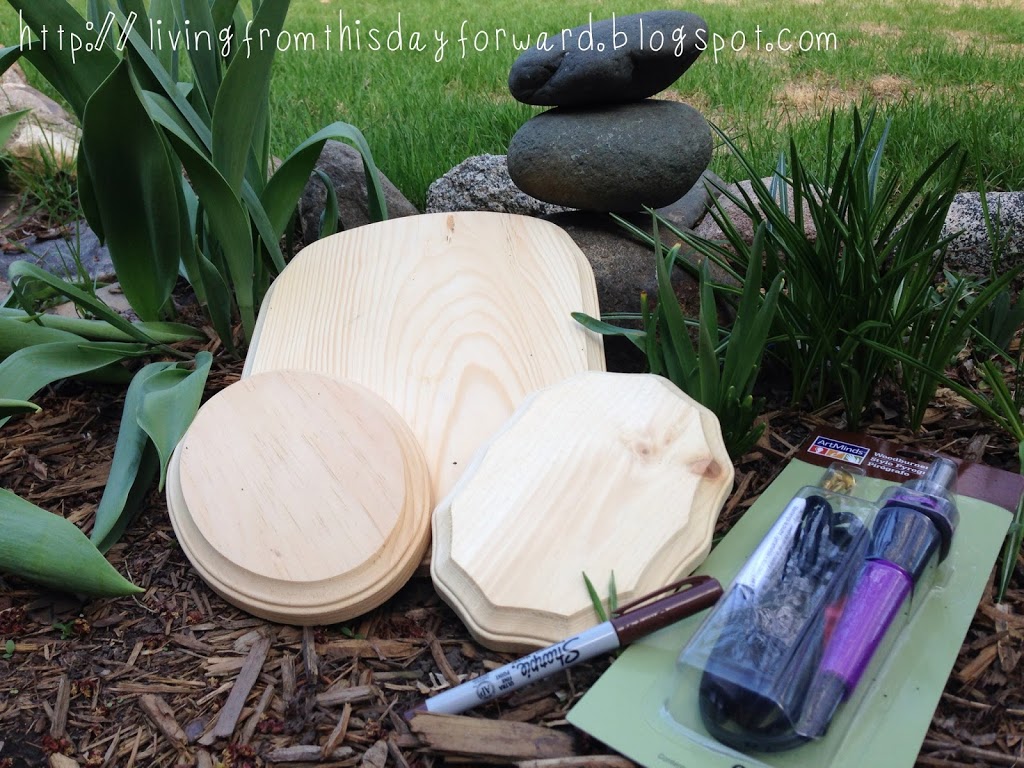 We started off by discussing what a crest was, in layperson's terms and little person's terms. Keeping things simple, the babes were excited about creating something that stands for Us. I pulled up some images of crests online to get the creative wheels turning.
We sat together and discussed what we stand for. What are the things that we find most important to us? What makes us proud or hopeful? What do we believe in? Here's what their pure little hearts settled upon…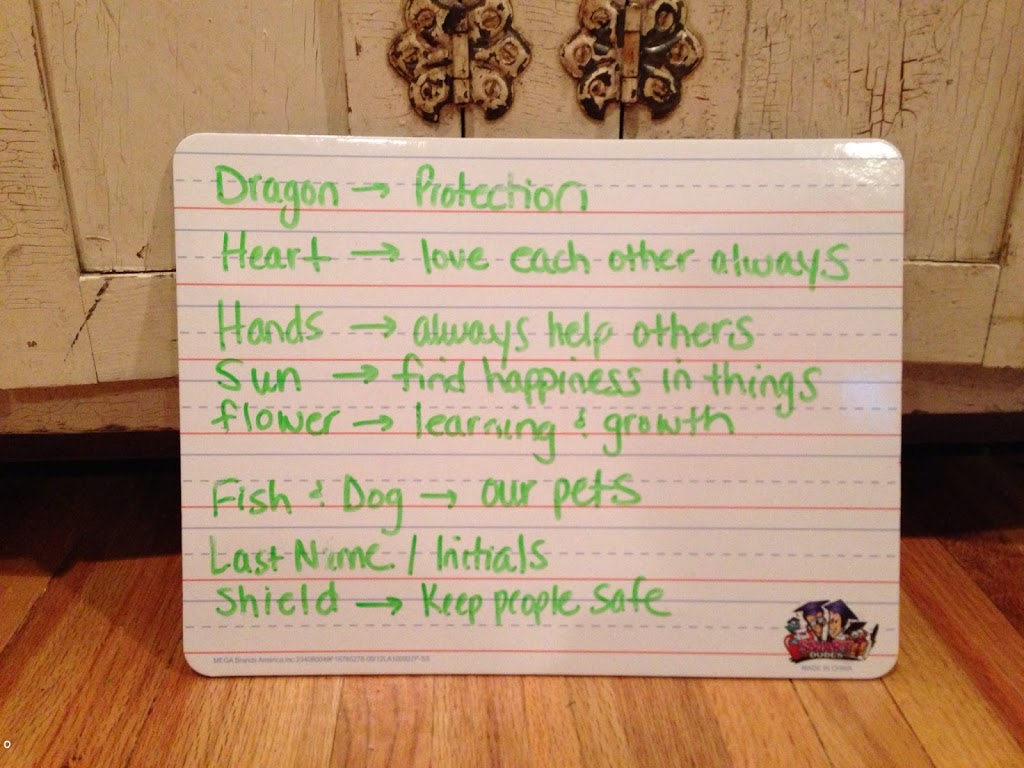 We decided on a shield and Little Man insisted on a Dragon for protection, and maybe also to battle the 'bad guys'. I sketched out a basic outline and the kids drew a few symbols with me. Little Lady nailed the flower and Little Man's tiny goldfish made my heart skip. It represents his buddy Tino…a 5 ½ year old goldfish that lives in his room and lulls him to sleep each night with his fluid dance. Our trusty pooch Scarlet made the board as well – it would have been fun to get an actual print of her paw, had circumstances allowed.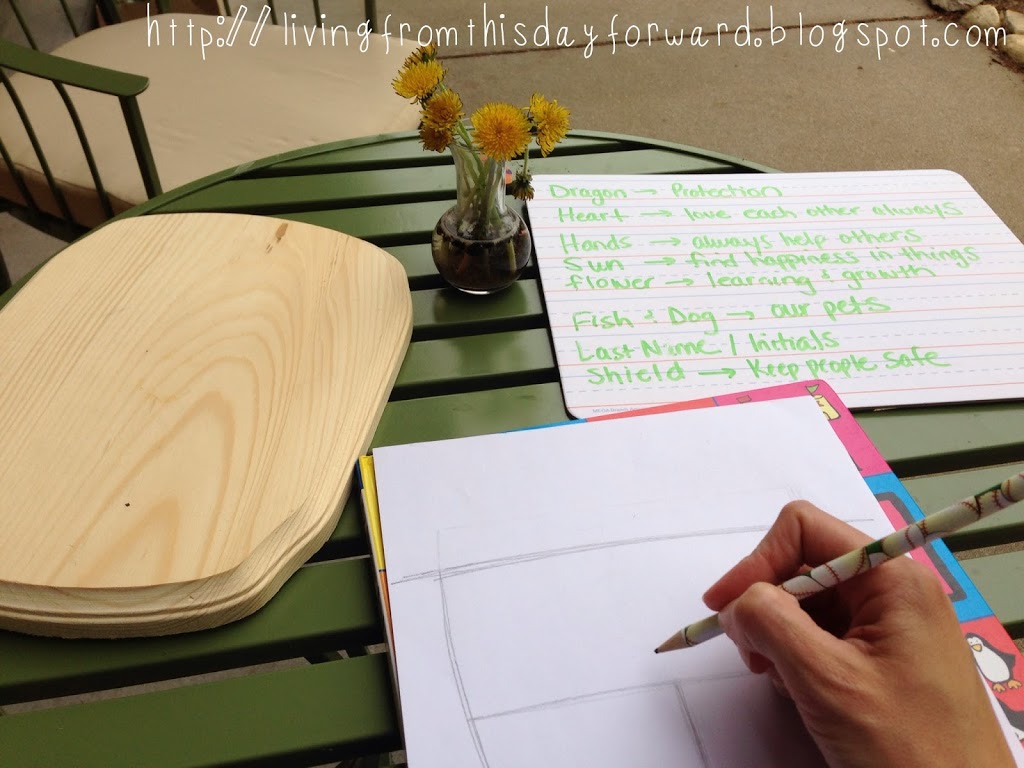 I added the dragon, finishing the draft one evening after bedtime. The twinkle in the babes eyes the next morning when I revealed the finished product tickled me giddy. I just love impressing them…making them proud…wrong? You've gotta take your props where they're given.
We found a wooden plaque board at the craft store for around $3. There are many affordable options!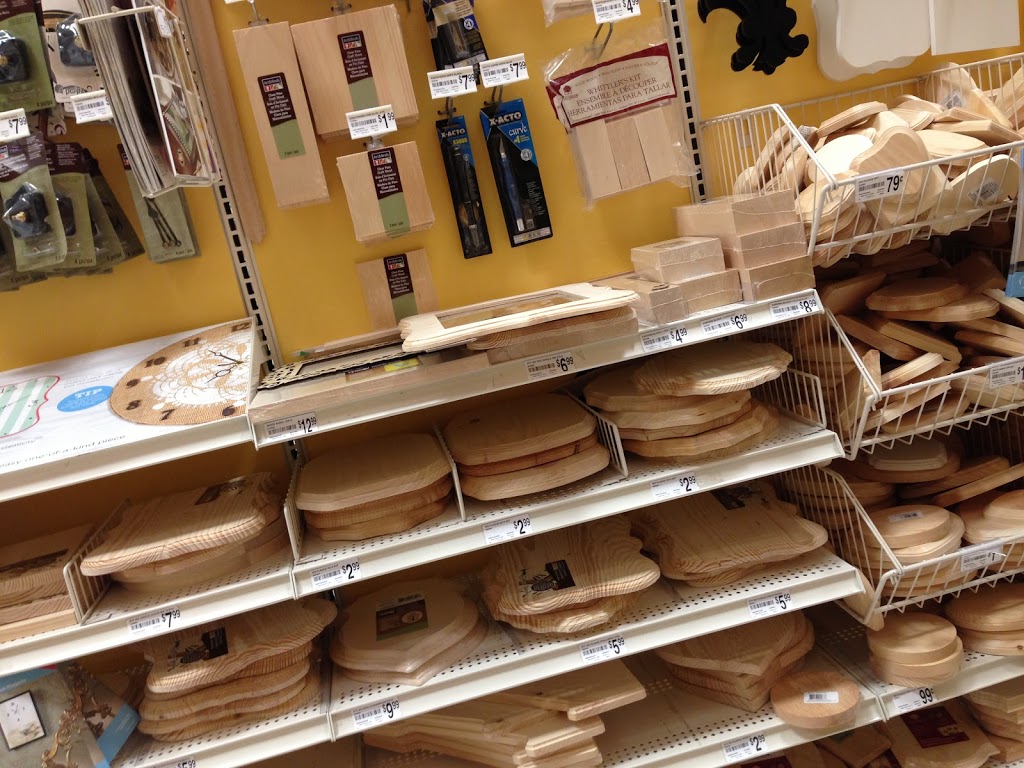 I wanted to replicate the sketch exactly, so it seemed fitting to imprint the design on the board. I cut around the sketch and taped the pattern into place on the wood plaque. I experimented with a wooden kabob skewer that I had on hand. I traced the pattern with the pointy end of the skewer, applying firm pressure, and the transfer worked! Yesssss.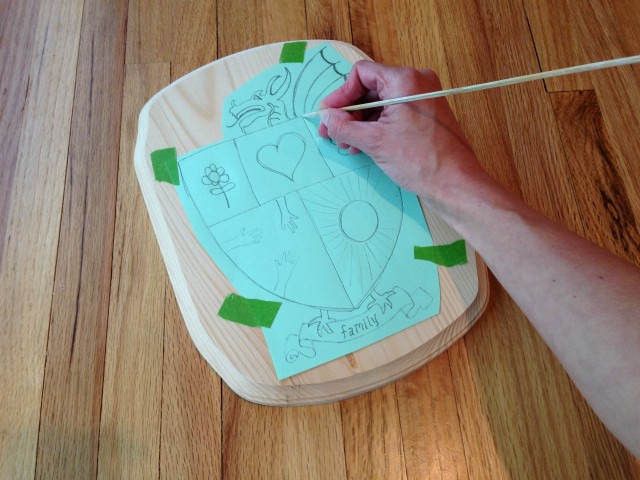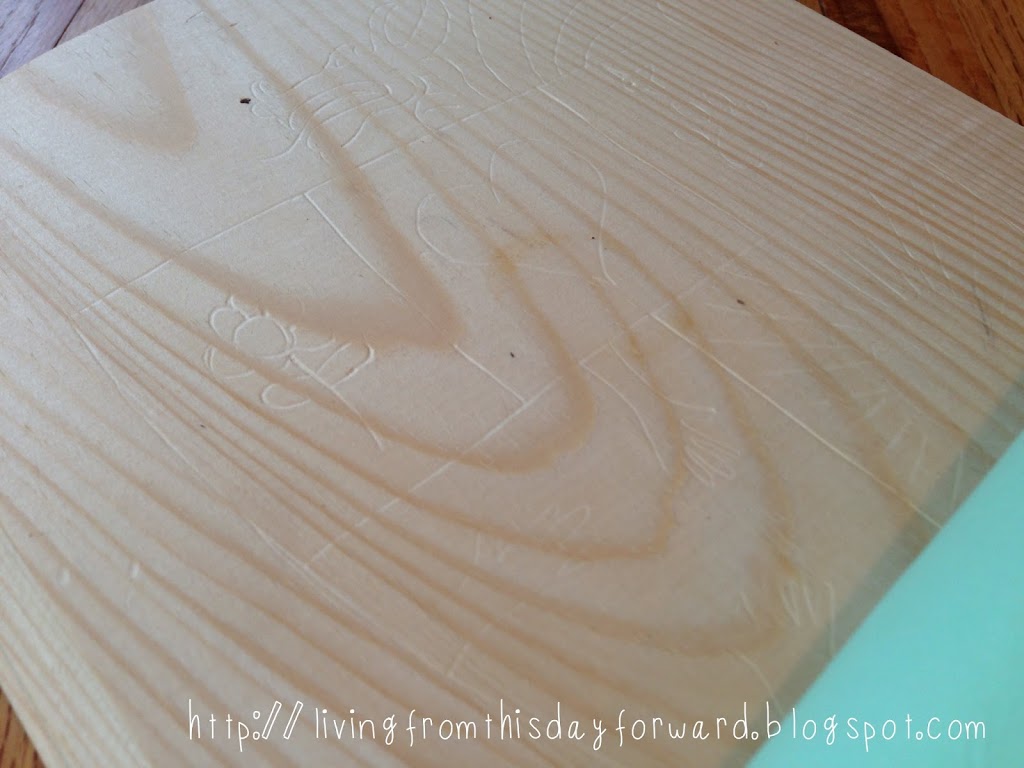 Now it's time to burn baby, burn. I purchased a wood-burning tool for about $12 at the craft store. I must share that I scored it at 40% off with a killer coupon, because that kind of thing makes me very happy. These tools plug in and heat, like a small curling iron, with various interchangeable tips that burn the pattern into the wood as you draw. I have always wanted one of these. It will sit beside my Dremel Tool. My craft arsenal is singing. Strange? Doesn't matter.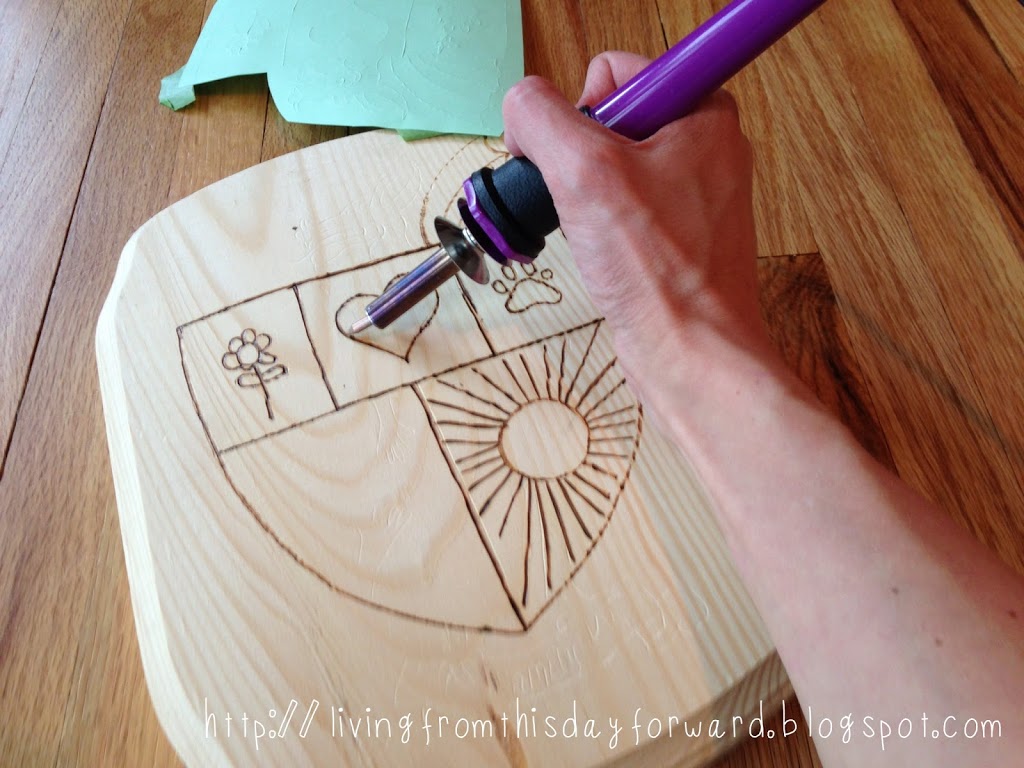 *Take great caution with this tool – it is for grown hands only. Read instructions carefully before crafting. Who said there isn't risk and thrill in crafting? Oh, we are so bold.
You may want to experiment with the tool on the backside of the wood first. It takes a bit of practice to become familiar with the pressure and angle needed for the desired look.
The smell of the pine toasting under the tip of the burner is heavenly and the faint sizzle as you uncover tiny pockets of sap is a bonus.
I added a personal message to the babes on the back of the crest and signed my name with the date.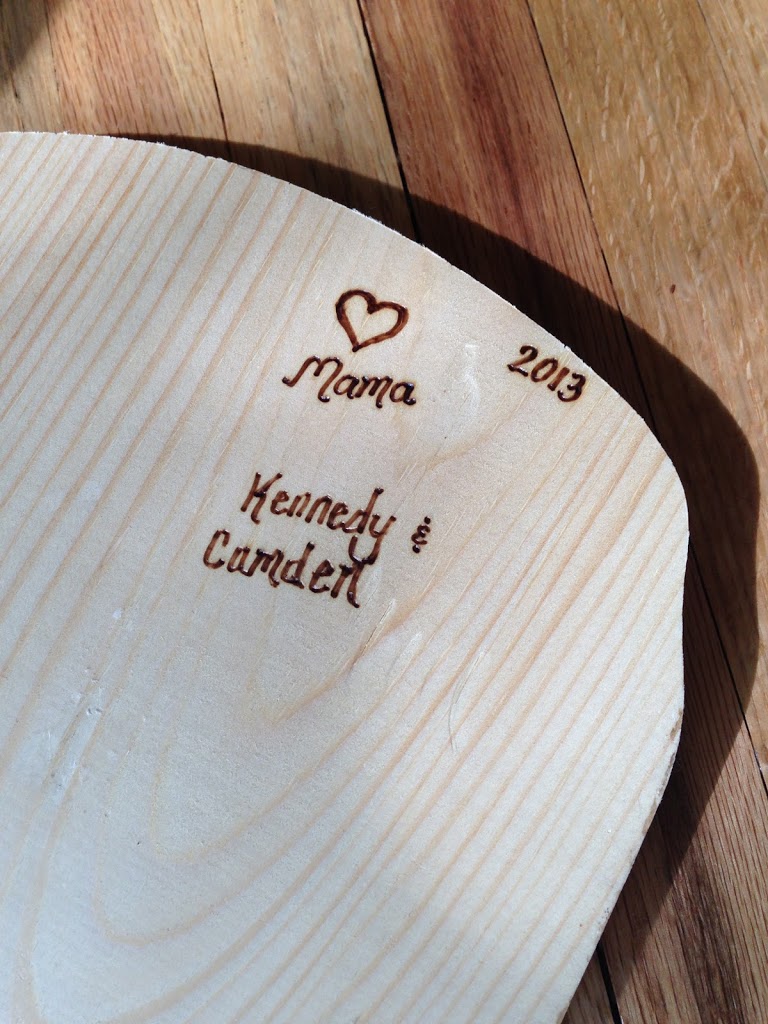 Our Family Crest will live in the playhouse and add to the personal charm of this little home, dripped with the love poured into our handmade treasures. Simple. Pleasures.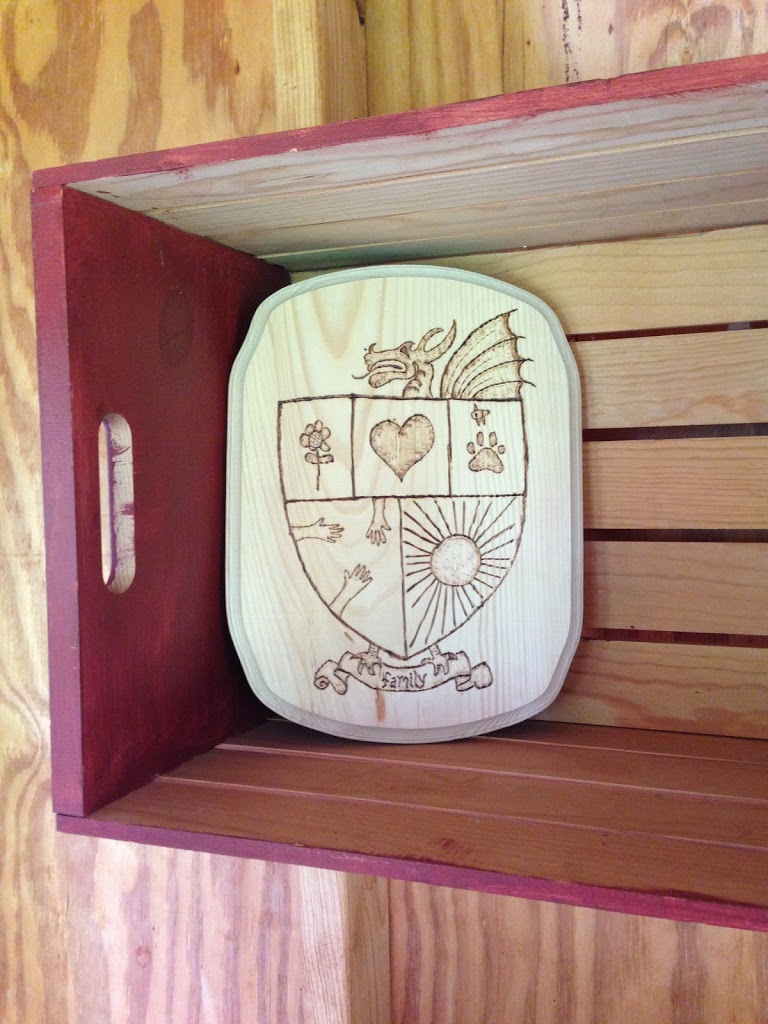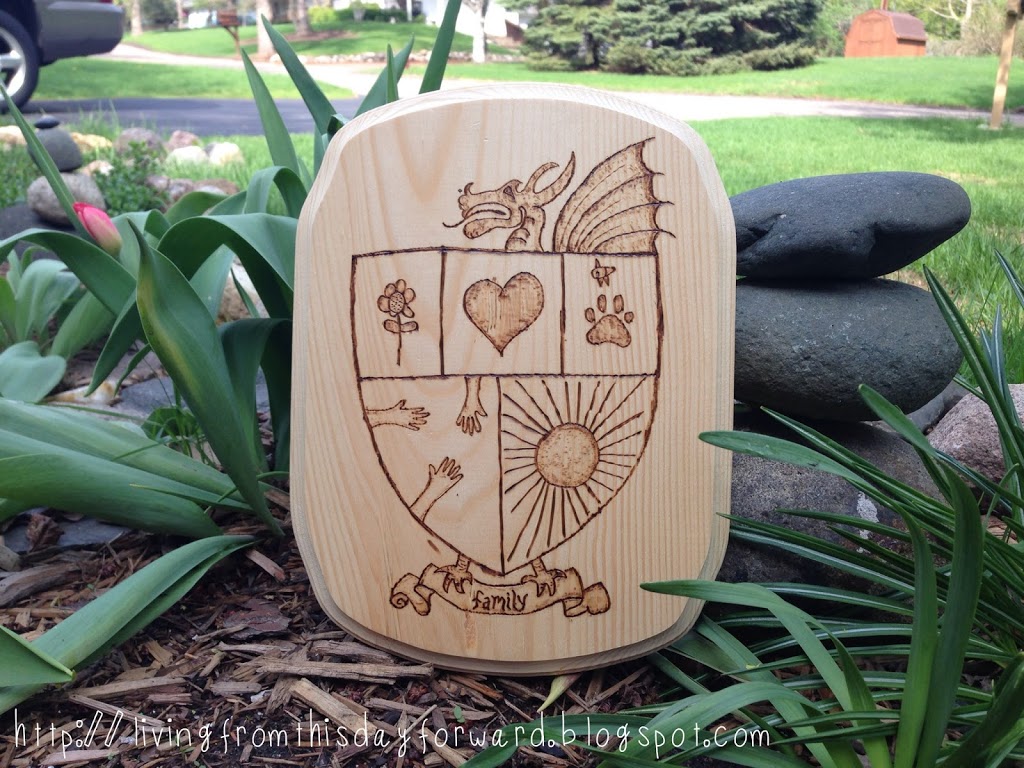 "We didn't realize we were making memories, we just knew we were having fun." -Quotediary.me
Cheers!
J
Leave a thought or a comment – I love to connect!